Located in mining-friendly San Bernardino County, California, Apollo's Calico Project combines the Waterloo and Langtry silver properties under one common ownership for the first time.

The Calico Project, comprising the adjacent Waterloo and Langtry properties, is located in the historic Calico Silver Mining District in the Mojave Desert of San Bernardino County, California. Under Apollo, this is the first time the two properties have been under common ownership. These represent a district-scale mineral system endowment with 2,950 acres under Apollo control with approximately 6,000 metres (19,680 feet) in mineralized strike length. The Calico Project hosts low-sulfidation epithermal-vein type and disseminated-style silver-barite mineralization, which is open to depth and along strike. Previous operators completed more than 42,000 metres (138,094 feet) of drilling across 438 holes on the project.
Apollo recently announced a maiden mineral resource estimate for the Calico Project. The mineral resource estimate comprises 166 million ounces of silver contained in 58.1 million tonnes at 89 grams per tonne silver, at an inferred level of confidence. Apollo's independent Qualified Person is Derek Loveday, of Stantec Consulting Services Ltd.
The Calico Project is well-placed relative to infrastructure and is located in the mining-friendly jurisdiction of San Bernardino County. The Project comprises the adjacent Waterloo and Langtry properties which total 2,950 acres. The Project is 15 kilometers (9 miles) from the city of Barstow and has an extensive private gravel road network spanning the property. There is commercial electric power within 5 kilometres (3 miles) of the Project.
Other mines of note in the region include SV Minerals Searles Lake Boron project, MP Materials Mountain Pass rare earth element mine and Equinox Gold's Castle Mountain gold mine. Rio Tinto's Boron mine is near the border with San Bernardino County, in Kern County. 
The Calico District claims comprise the Waterloo and Langtry properties, combined consisting of
Unpatented lode mining claims (19 Waterloo and 38 Langtry)
Private lands at both Waterloo and Langtry have received a Certificate of Land Use Compliance, vesting surface mining rights which simplifies certain permitting processes. The unpatented claims on BLM-managed public lands are open for mineral entry, and no monuments, preserves or national parks encroach on these lands. The Calico Project totals 2,950 acres, with Waterloo comprising 1,770 acres and Langtry 1,180 acres.
The Waterloo property comprises 27 fee simple land parcels (1,352 acres) and 21 unpatented claims [19 lode mining, 2 mill site claims] (418 acres). These were acquired by Apollo through an Asset Purchase Agreement between Stronghold Silver USA Corp., a wholly-owned subsidiary of Apollo (see news release), and Pan American Minerals Inc. ("Pan American"; a wholly-owned subsidiary of Pan American Silver Corp.), that closed July 13, 2021 (see news release). Pan American retains a 2% Net Smelter Royalty on the property.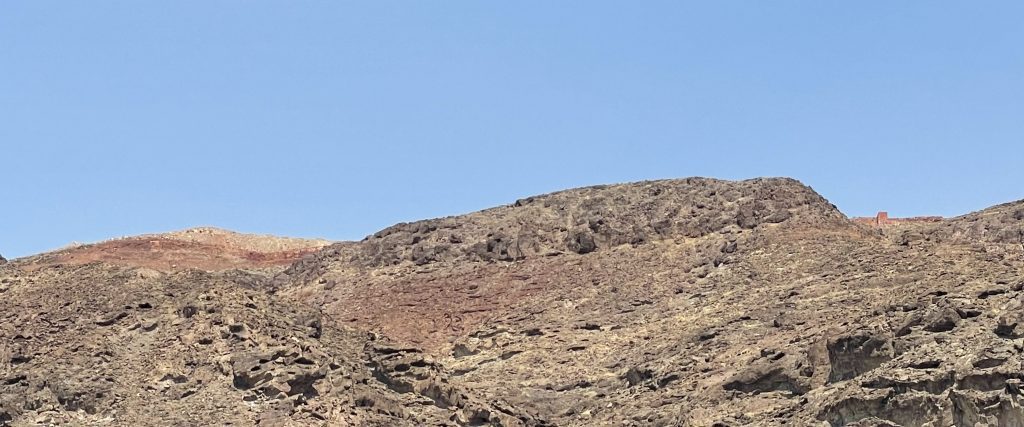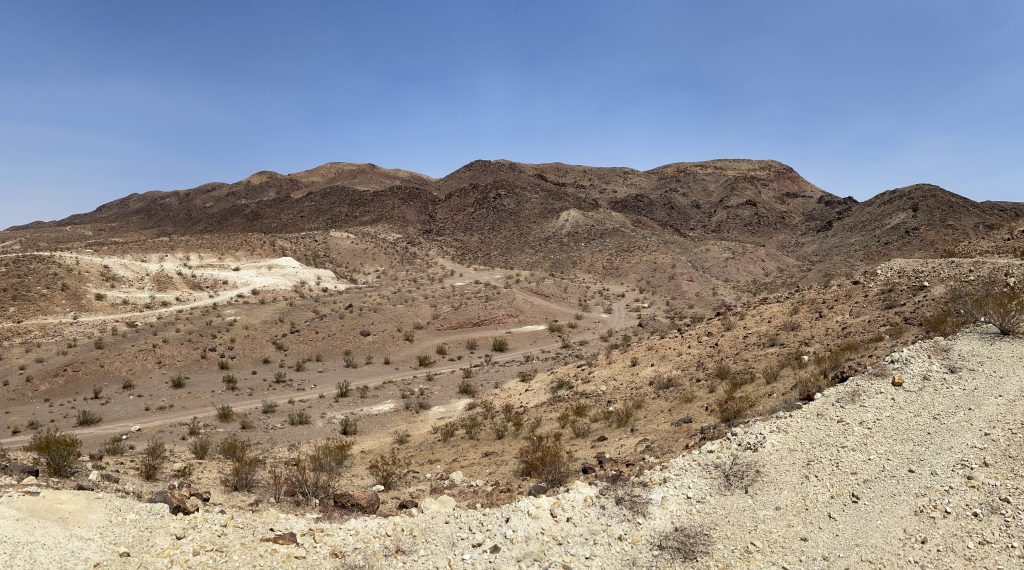 The Langtry property comprises 20 patented claims (413 acres) and 38 unpatented lode mining claims (767 acres). The Project is under option between Stronghold Silver USA Corp., a wholly-owned subsidiary of Apollo, and the Bruce and Elizabeth Strachan Revocable Living Trust (the "Strachan Agreement") for the patented claims, and Athena Minerals Inc. for the unpatented claims.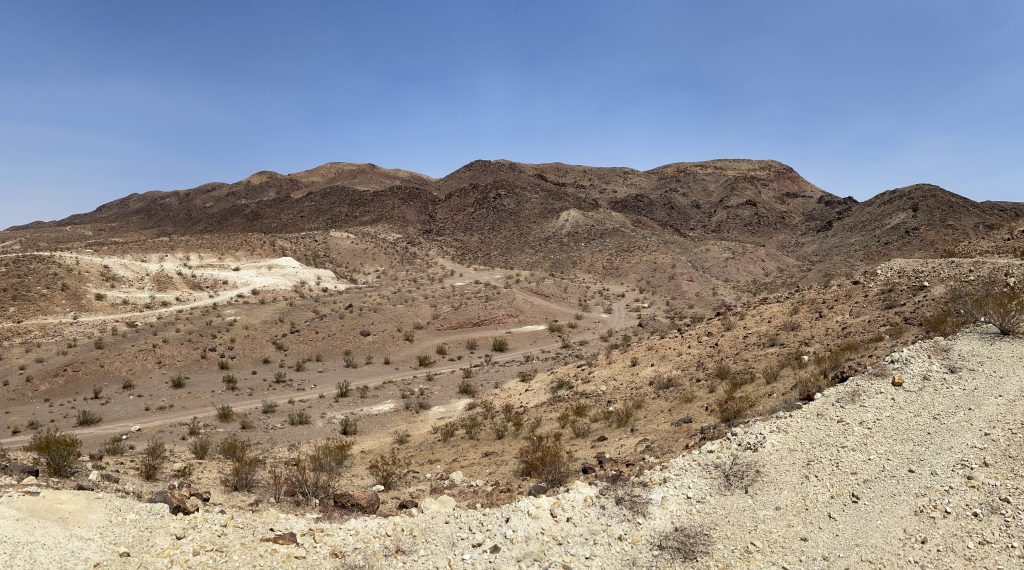 CALICO PROJECT MINERAL RESOURCE ESTIMATE​
The Calico Project maiden Mineral Resource Estimate ("MRE"), effective January 28, 2022, comprises an  Inferred resource estimate of 166 million ounces ("Moz") of silver contained in 58.1 million tonnes ("Mt") at an average grade of 89 grams per tonne ("g/t") has been defined at Calico by Derek Loveday, P.Geo., of Stantec Consulting Services Ltd., ("Stantec"), the Company's independent Qualified Person.
Base-case resource estimates reported in Table 1. Contained silver ounces are reported as troy ounces.
Canadian Institute of Mining, Metallurgy and Petroleum ("CIM") definitions are followed for classification of the Mineral Resource.
Prospects for eventual economic extraction determined using surface mining operating costs of US$2.50/st, processing costs of US$29.00/st and silver price of US$23.00/oz.
Specific gravity for the mineralized zone is fixed at 2.44 kg/m3 (13.13 ft3/st). Silver grade was capped at 400 g/t only for Waterloo estimation.
Resources are constrained to within an economic pit shell targeting mineralized blocks with a minimum of 50 ppm (50 g/t) silver.
Totals may not represent the sum of the parts due to rounding.
The Mineral Resource estimate has been prepared by Derek Loveday, P. Geo. of Stantec Consulting Services Ltd. in conformance with CIM "Estimation of Mineral Resource and Mineral Reserves Best Practices" guidelines and are reported in accordance with the Canadian Securities Administrators NI 43-101. Mineral resources are not mineral reserves and do not have demonstrated economic viability. There is no certainty that any mineral resource will be converted into a mineral reserve.
Optimized pit-constrained resource uses conservative cut-off grade of 50 g/t silver

The base-case cut-off grade ("COG") was determined using the following assumptions:

Silver price of US$23 per troy ounce ("oz")
Processing costs of US$29 per short ton ("st").
Mining costs of US$2.50/st
Silver recovery of 80%

Silver price was determined by averaging the price from the last 24 months up to December 31, 2021, based on data from the World Bank. Processing cost was based on published estimates for similar deposit types, cross-checked against historical processing costs determined by ASARCO in their 1980 historical feasibility study for Waterloo, and adjusted for inflation to 2022 prices. Increased silver prices, optimised processing parameters and/or improved silver recoveries will all impact the COG and the resultant MRE.

Resource estimates comprise oxide mineralization only

The MRE is entirely contained within an extensive, near-surface oxidized silver mineralized zone that shows excellent continuity at both Waterloo and Langtry.
The depth of the oxide/sulphide boundary below the current depth extent of the resource is poorly constrained, presenting opportunities to define additional oxide resource at depth. See Growth Opportunities section below.

High continuity of shallow mineralization amenable to bulk mining methods

The near-surface resource is calculated to a maximum depth below surface of ~125 m (415 ft) at Waterloo and 146 m (480 ft) at Langtry. Using conservative open pit optimization to determine reasonable prospects for economic extraction, the calculated waste to mineralized zone ratio for Waterloo is 2.2:1.
Drilling demonstrates that mineralization is continuous and extensive: at Waterloo it extends along a strike length of 1,860 m (6,100 ft), and 1,250 m (4,100 ft) at Langtry.

Significant resource growth opportunities identified

Untested silver host stratigraphy identified below ~125 m (415 ft) within current resource extents and along strike at both Waterloo and Langtry.
Expansion of high-grade silver mineralization.
Gold and barite both have potential to make meaningful contribution.

Clear path to resource advancement identified

2022 drill program designed to increase resource confidence and expand metal inventory.
Metallurgical testing program defined. Results are expected in Q3 of 2022.
For more information regarding the Calico MRE please see the following:
The Calico District is situated in the Calico Mountains of the Mojave Desert, in the west-central part of the Basin and Range tectonic province. The Calico Mountains consist of a 15 kilometre (9 mile) long northwest-southeast trending range dominantly composed of Tertiary (Miocene) volcanics, volcaniclastics, sedimentary rocks and dacitic intrusions.
The Calico Mountains form an uplifted block in a wedge-shaped zone between three major fault systems: the San Andreas Fault, the Death Valley Fault and the Garlock Fault.​
Silver mineralization is associated with mid-Tertiary volcanic activity and northwest-trending fracture zones. Tertiary geologic units in the Calico area are the Pickhandle Formation (volcanic flows, breccias and volcaniclastics primarily of dacitic to andesitic composition) and Barstow Formation (sediments deposited in a shallow lake environment), overlain by the younger (Plio-Pleistocene) Yermo Formation.
Mineralization at Calico occurs as discrete NW and EW striking, high-grade silver-barite veins (primarily hosted in the Pickhandle formation) and broad disseminations and veinlet stockworks (primarily hosted in the Barstow sandstones). Both styles are believed to have formed from a common event, with the host rock controlling the style of mineralization. The timing of mineralization is ~15-20 Ma which aligns with a period of subduction and extension in the region.​
HISTORY OF THE CALICO DISTRICT
Silver rich mineralization was discovered in the Calico mountains in 1881 with later extraction focused on high-grade oxidized deposits of vein-related silver. At its height of silver production between 1883 and 1896, Calico had over 50 mines and a population of 1,200 people. Historical estimates of total extracted silver up until 1896 are estimated to be between 15 and 20 Moz (Harthrong, 1983). Most mining of silver ceased in 1896 due a sharp decline in silver prices and an economic depression, with only limited production continuing until the 1930's. One of the major silver producers in the district was the Waterloo silver mine, which is located on the Calico Project.
Barite became a mineral of interest in the region in the 1950's as oil and gas exploration ramped up in the US. There was a concurrent reopening of silver mining, but production remained low. The Leviathon mine near the Langtry property was the largest barite producer on the west coast between 1957-1961. Numerous past-producing mines and historical workings are in the vicinity of the Waterloo and Langtry properties.
More modern exploration commenced on the Waterloo property in 1964, when the American Smelting and Refining Company ("ASARCO") acquired an interest. ASARCO completed a significant amount of technical work including surface sampling, mapping, trenching, drilling and metallurgical testing. They completed an Environmental Impact Assessment report and feasibility in 1980, ultimately receiving a permit to mine. The decline of silver prices at the time resulted in a half of activities and put the project on care and maintenance. Pan American Minerals Inc. (a wholly-owned subsidiary of Pan American Silver Corp.) acquired an initial interest in the project in 1994, acquiring a 100% interest in 1996. Between 2008 and 2012, Pan American completed both reverse circulation and core drilling.
At Langtry, records show the property was acquired by an agent of Superior Oil Corp. ("Superior") in 1966, with discovery of the disseminated silver mineralization occurring around 1967. Exploration by Superior from 1967 to 1984 consisted of geological mapping, geochemical sampling, surface trenching, drilling and metallurgical testing. Superior was subsequently purchased by Mobil Corporation and the Langtry property sat dormant due to depressed silver prices until the Strachan family acquired the private lands in 2004. Athena Minerals Corp. ("Athena") acquired interest in the unpatented claims surrounding the private lands in 2010. A joint venture between Athena and the Strachan family saw a program of surface sampling, trenching and drilling completed by Athena in 2012. A total of 213 drillholes (26,200 metres/86,000 feet) is reported to have been completed on the Langtry Property by the previous operators. Of these, Apollo has audited data for 183 holes, 23,465 m (76,986 ft) which were used for the maiden Calico Project mineral resource estimate.